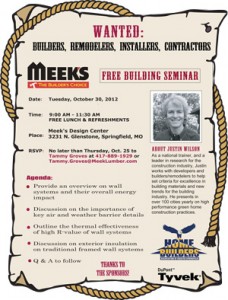 Looking for more information on wall systems and their overall energy impact? How about a discussion about exterior insulation on traditional framed wall systems? Justin Wilson, national trainer and a leader in research for the construction industry will be presenting these topics next Tuesday (October 30th) at Meek's Design Center (3231 N. Glenstone, Springfield), 9am-11:30am. Click here to see the flyer.
Call 417.889.1929 or email Tammy Groves (Tammy.Groves@MeekLumber.com) to make your reservation for this seminar today! Reservations will be accepted through Thursday, October 25th. There is no charge, but you must have a reservation to attend.
Attending this seminar will also earn you 2.5 green continuing education credits towards the renewal of any designation offered by NAHB. If you currently hold a Certified Green Professional (CGP) designation, you need 12 hours of continuing education every three years and a minimum of 8 of those hours are required to come from green building industry related education activities. All other NAHB designations simply require 12 hours of continuing education every three years.
This seminar sponsored by Meek's – The Builder's Choice, DuPont Tyvek and the Home Builders Association.