B+ or Better
Better Business Bureau
To become a member of the HBA of Greater Springfield businesses must have a B or Better grade with the BBB (Better Business Bureau), General Liability Insurance & Workers' Compensation Insurance*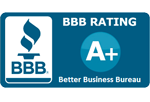 More Info About HBA Membership Requirements
What is the Better Business Bureau?
Collapse
Today's BBBs are committed to the belief that the majority of marketplace problems can be corrected through voluntary self-regulation. They champion the cause of consumers and hold businesses accountable to the highest standards of honesty in their advertising and selling.
For more about complaint handling, dispute resolutions and the what else the BBB does – Click Here!
Vision and Mission of the BBB
Expand
Vision
An ethical marketplace where buyers and sellers trust each other
Mission
BBB's mission is to be the leader in advancing marketplace trust. They do this by
Setting standards for marketplace trust
Encouraging and supporting best practices by engaging with and educating consumers and businesses
Celebrating marketplace role models
Calling out and addressing substandard marketplace behavior
Creating a community of trustworthy businesses and charities
BBB sees trust as a function of two primary factors – integrity and performance. Integrity includes respect, ethics and intent. Performance speaks to a business's track record of delivering results in accordance with BBB standards and/or addressing customer concerns in a timely, satisfactory manner
What is BBB Accreditation?
Expand
If a business has been accredited by the BBB, it means BBB has determined that the business meets accreditation standards, which include a commitment to make a good faith effort to resolve any consumer complaints. BBB accredited businesses pay a fee for accreditation review and monitoring for continued compliance and for support of BBB services to the public.
How a grade is determined?
Expand
BBB ratings represent the BBB's opinion of how the business is likely to interact with its customers. The BBB rating is based on information BBB is able to obtain about the business, including complaints received from the public. BBB seeks and uses information directly from businesses and from public data sources.
BBB assigns ratings from A+ (highest) to F (lowest). In some cases, BBB will not rate the business (indicated by an NR, or "No Rating") for reasons that include insufficient information about a business or ongoing review/update of the business's file.
BBB Business Profiles generally explain the most significant factors that raise or lower a business's rating.
BBB ratings are not a guarantee of a business's reliability or performance. BBB recommends that consumers consider a business's BBB rating in addition to all other available information about the business.
Customer Reviews are not used in the calculation of the BBB Letter Grade Rating.
Here is a simple bullet list of the factors that go into a BBB grade (click here for details):
1.   Business's complaint history (number of complaints, size of business, resolved…)
2.   Type of business (ethics…)
3.   Time in business (length of time in business…)
4.   Transparent Business Practices (transparent about its marketplace conduct…)
5.   Failure to honor commitments to BBB (rating is lowered if they do not honor the BBB commitments…)
6.   Licensing and government actions known to BBB (see details…)
7.   Advertising issues known to BBB (misuse of the BBB name, questions about truthfulness…)
More BBB FAQs
Expand
For more information and the Better Business Bureau's FAQs – Click Here!