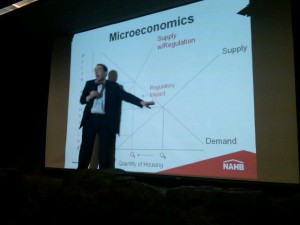 On Tuesday, November 30, National Association of Home Builders Senior Economist Elliot Eisenberg met with builders, developers, policymakers, and friends of the residential construction industry to share multiple components of the same basic message: housing equals jobs.
Eisenberg discussed the job creation impact of building 100 new single family homes in a community. Job creation happens at multiple phases, including the construction phase, the ripple effect phase, and the occupancy phase. Of all sectors of the economy, residential construction has one of the very highest multiplier effects in job creation. Yet, over-zealous regulatory and legislative efforts can fundamentally alter the economic model, leading to higher prices, fewer homes, and fewer jobs – something no one believes the current economy could endure. That's why issues like mandatory fire sprinklers, onerous impact fees, and others must be re-evaluated entirely as policymakers seek opportunities for economic recovery.
And it is one reason the Home Builders Association of Greater Springfield is kicking off the area's first ever Local Impact of Housing study. The HBA is contracting with Dr. Eisenberg to analyze the job creation, ripple economic development, and cost impact of building new homes in the Springfield-Branson area. Eisenberg visited a recently-completed new home in Richmond subdivision in Nixa, MO, along with developer Bob Fitzgerald to preview the report. The home is for sale, and was built by Fitzgerals and builder Kenny Bussell, both members of the HBA of Greater Springfield. The day's events drew attention from local media, including KY3, KOLR, the Springfield News-Leader, and others. Here is a sampling of the coverage:
————————————————————
** RELATED ON KOLR: Retired Ozarks Homebuilder Reflects on Current Housing Cycle
featuring HBA of Greater Springfield Hall of Fame home builder Hershel Johns


————————————————————
KY3: A New Study Looks For Ways the Ozarks Could More Quickly Recover
————————————————————
Springfield News-Leader: Fewer Homes Equals Fewer Jobs
Study to examine the impact housing has on local economy.
When a new home gets built, jobs are created and local businesses get a boost from the new residents who move in.
How much of a boost?
That's the focus of a new housing impact study commissioned by the local Home Builders Association.
HBA has hired Elliot Eisenberg, a noted economist … READ MORE BY CLICKING HERE