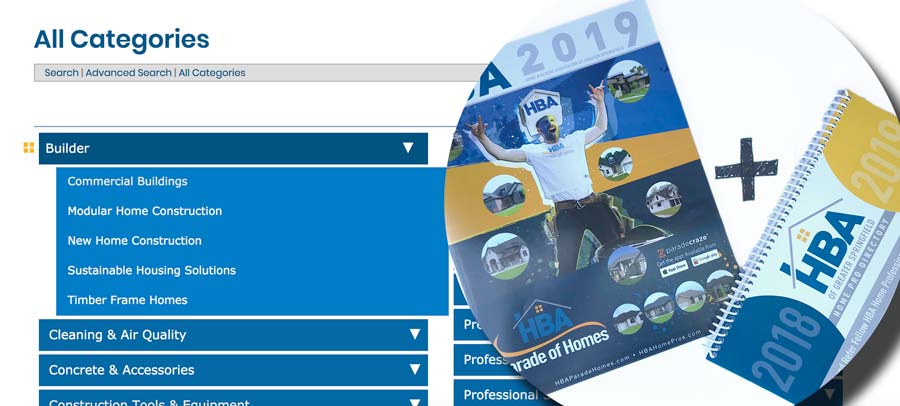 Check the new HBAHomePros.com with Categories and Subcategories!
As with everything in 2020 – change is the name of the game. Sometimes a few good things come from really bad circumstances and this might be the case for the 2020 HBA Membership Directory. We would, of course, prefer things to go back to normal, and we continue to think of and pray for those that have lost loved ones, have become sick, are struggling financially or their businesses is facing multiple challenges because of COVID-19. We miss seeing everyone and cannot wait until our "new normal" is in place and we can start getting together again!
Directory of the Past:
In the past the HBA directory was printed as a 4.5 inch x 9.75 inch spiral bound publication with a Builder, Developer and Associate member Company Directory, plus a Category Index section and Useful Contacts. This format was, and still is for many, useful to keep in their vehicles for easy access. Just a few years back we would have a Membership Directory Launch Party for members to stop by, have something to eat, play games and pick up their directory (Side Note: Thank you Southern Supply and Southern Materials for helping make that happen for many years).
Changes:
With our newly updated HBAHomePros.com membership directory online, our Remodeling EXPO placed on hold and uncertainties due to COVID-19 – the landscape has changed. Members have indicated that they would still like to have a physical directory, but they would like to have the directory distributed to consumers as well as members. One factor that must be considered for members and consumers today is that "simplicity is the key." BTW – We are working on enhancements to HBAHomePros.com – Stay Tuned!
Directory of the Future (Magazine + Pocket Directory):
We will be combining two of our popular publications for our "mid-year HBA Magazine distribution." This merger includes 500 HBA Event Magazines, that would have been used for the Remodeling EXPO, with 500 of the smaller HBA Membership Directories. A pocket will be added to the inside back cover of the magazine to hold a removable and slimmed down version of the Membership Directory (Pocket Directory). Because the magazine itself has a January 2020 membership guide, listing companies by categories, we will reduce the "Pocket Directory" to listing by company, plus advertisements.
Distribution of Magazine + Pocket Directory
In place of a Remodeling EXPO Magazine there will be 500 HBA Magazines (packed with useful info) + Pocket Directory used to promote HBA members through a variety of distributions points. Currently we have contacts at Price Cutter and Harter House, as well as multiple HBA Members, that have expressed interest in distributing from their showrooms and offices. If you have any recommendation or connections to businesses that you feel would be good distribution spots, please let us know. We love to get your feedback so we can better promote you – our HBA Home Pros.
Advertise in the Pocket Directory
If you are interested in advertising in the NEW "Pocket Directory," please contact us ASAP (Aaron@HBASpringfield.com or 417.881.3711). For those that created a bundle for 2020 and already reserved their space in the 2020 HBA Membership Directory – nothing has changed except you will get more exposure. Please submit your ads before June 8th. If you need assistance with your ad, please submit all needed materials before June 1st (contact us if you need assistance).
BONUS
If you advertise in the NEW "Pocket Directory," we will highlight you on Social Media in the next 12 months. If we have already posted a HBA Home Pros Spirit Friday video for you on Facebook, we will repost your video.
Plans for Distribution in mid to late June
Because of the obvious changes in our world we are watching to see when it will be best to distribute the Magazine + Pocket Directory. Plans are right now to have everything ready and to distribution points by mid to late June. We, of course, want these publications to be well received, so the dates for distribution remain fluid at the moment. We are hopeful of hitting our target dates of June 19th or June 26th.
Thank you HBA Members for all of your support before, during and after COVID-19 changed paths for many of us. Stay Strong and let us know how we can help you.