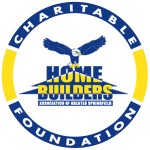 "As the industry emerges from recession, many HBA members are eager to compete for new business by earning, maintaining and marketing professional designations," HBA Charitable Foundation (HBACF) President Mike DeLong said. "Unfortunately, the economic impact of the last several years has left many who have survived without available financial resources to pursue or maintain these credentials."
How did the HBACF help HBA Members? By offering $31,000 in scholarships so HBA members could pursue designations which would assist them in remaining up-to-date with new technology in the building industry.
QUICK FACTS:
Thanks to the HBACF's generous scholarship program, the HBA of Greater Springfield was able to guarantee that 16 NAHB testing opportunities and designation classes would be held.  This guarantee allowed us to successfully market these classes and receive reservations from attendees in Illinois, Arkansas, Kansas and Oklahoma in addition to our own members.
The HBA Charitable Foundation is a 501(c)3 organization association with the HBA of Greater Springfield. Funds raised through the HBACF help provide scholarships for future members of the construction and interior design workforce who are pursuing their education in four year colleges and universities or two year technical schools. Funds are also used to help local organizations and individuals with ties to the construction industry.
The HBACF's annual fundraiser is a mini golf event in June – there are sponsorship opportunities, as well as participation opportunities. Be looking for more information about this event next spring.