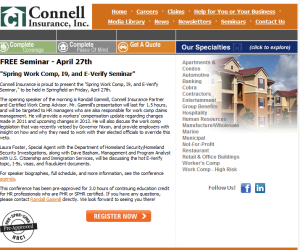 Connell Insurance Presents "Spring Work Comp, I9, and E-Verify Seminar"
Friday, April 27, 2012
8:30am – 12:30pm (Arrive at 7:45am for continental breakfast and registration)
Featuring:
Randall Gammill, Connell Insurance Partner and Certified Work Comp Advisor, with "Work Comp and Employment Law Updates"
Laura Foster, Special Agent with teh Department of Homeland Security/Homeland Security Investigations, and Dave Basham, Management & Program Analyst with U.S. Citizenship and Immigration Services, with "E-Verify, I9, Visas, and Fraudulent Documents"
For more information or to register for the seminar online, click here. To download a pdf registration form, click here.
This event has been pre-approved for 3.0 hours of continuing education credit for HR professionals who are PHR or SPHR certified.