It is time to check your membership information and reserve ad space for the 2013-2014 Membership Directory.
First, go to iFINDAPRO.com and see if your company information is correct online. This is the same information pulled from the HBA database to create the physical HBA Home Pros Membership Directory. Be sure to click on your listing to open the popup revealing your membership categories and contact information. If you would like to learn about adding KEYWORDS to help you to be found on iFINDAPRO please email Aaron or call 417.881.3711.
Next, Click here to view ad sizes and reserve ad space with our all-in-one handy dandy fillable PDF form (download/save to your computer – right click). To advertise on the inside cover and back inside cover you must call. First come first served. The color section in the middle of the publication is also limited so reserve as fast as you can.
Finally there are Bonus iFINDAPRO ads for those who advertise in the printed directory. iFINDAPRO is the second most visited page within SpringfieldHBA.com and growing. You'll find it hard to pass up these inexpensive Bonus Ads.
The 2013-2014 HBA Home Pros Membership Directory will be unveiled at the Launch Party sponsored by Southern Supply Co. and Southern Materials Co. on May 21 where there will be good food, networking fun and a new directory hot off the press.
Click image below to fill out PDF reservation form or see sample ad sizes. If you don't like fillable PDF forms shoot Aaron an email or give him a call at 417.881.3711.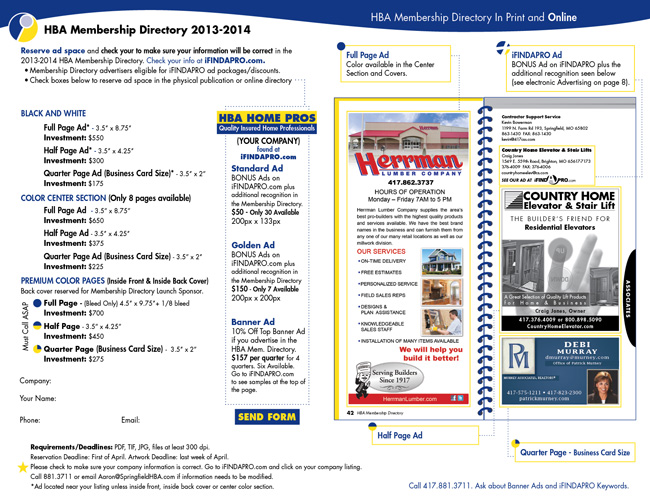 HBA Home Pros Membership Directory Launch Party Sponsored by: