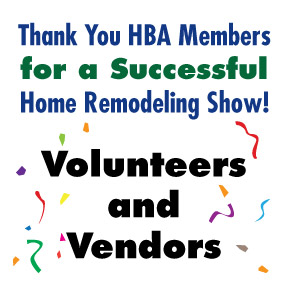 If you attended or participated in the 2013 HBA Home Remodeling Show (sponsored by Southern Supply), you are aware that attendance was up and so were spirits. If comparing pure numbers, the 2013 event was up approximately 500 from 2013. There was a good mixture of visitors looking for ideas on how to improve their homes combined with those looking for a remodeler to make those improvements come to life.
"This was all around a great success from our perspective," said CEO Ken Thrasher. "The vendors had nice booths and made the show look good, but it was also obvious that the volunteers should receive credit for a successful event." Ken went on to say, "Charlyce does a great job of getting the staff, volunteers and vendors organized and firing on all cylinders."
As a special Thank You we would like to recognize all the volunteers. We will have a full list in next week's HBA Housing e-News.
Side Notes:
See all the activity on facebook regarding the 2013 HBA Home Remodeling Show at facebook.com/SpringfieldHBA and don't forget to LIKE.
Be sure to RSVP for the October Networking Event at SCS Home Entertainment this Tuesday from 4:00 until 6:00. Consider it a celebration party for a successful Home Remodeling Show.
Quick Slideshow for the Home Remodeling Show. More next week!
[slideshow id=75]
Click image to move forward quicker.