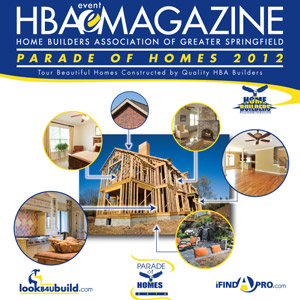 In conjunction with the HBA of Greater Springfield's 59th annual Parade of Homes, the HBA last week released the 2012 HBA Parade of Homes magazine to the public. The Parade of Homes concludes this weekend, when homes will be open Friday, Saturday and Sunday from 1pm to 6pm (learn more about the Parade here).
The HBA Parade of Homes Magazine is the complete information source for the HBA Parade of Homes. It is distributed to all attendees of the Parade, as well at the retail locations of these HBA member companies:
The Carpet Shoppe (1827 E. Semonole St., Springfield)
Herrman Lumber Company (1917 S. State Hwy MM, Springfield)
The Light House Gallery (4113 S. National Ave., Springfield)
Maschino's (1715 S. Campbell Ave., Springfield)
Meek's – The Builders Choice (1551 W. Mt. Vernon, Springfield; 3250 E. Sunshine, Springfield; 1355 E. Highway 60, Republic; Highway 160 N, Nixa)
Meek's Design Center (3231 N. Glenstone, Springfield)
The HBA Parade of Homes Magazine also is available to browse online as a virtual magazine. See the magazine below, or view a fullscreen version by clicking here.