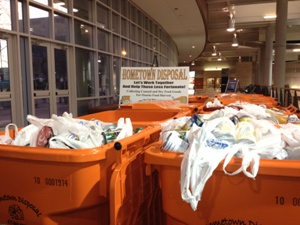 The Home Builders Association of Greater Springfield's 2011 Home Show drew more than 13,000 people in attendance. That was good news for professionals in the building industry, as it likely bodes well for 2012 as a recovery year.
But the HBA also leveraged the show's robust attendance to provided needed support for the work of Ozarks Food Harvest to feed the hungry.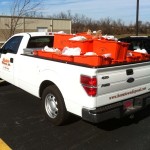 In partnership with HBA Member Hometown Disposal, the HBA of Greater Springfield offered Home Show attendees a $1 savings off their admission when they contributed a canned good to Ozarks Food Harvest.
Hometown's distinctive bright orange dumpsters were onsite and filled to the brim by the weekend's end with the generosity of Home Show attendees. When it was all counted, 1,887 pounds of canned goods were delivered to Ozarks Food Harvest, in just the second year of the promotion. When added to the 1,100 pounds of food collected by the HBA and Hometown Disposal in 2011, the effort has so far provided nearly 3,000 pounds of food for for the cause.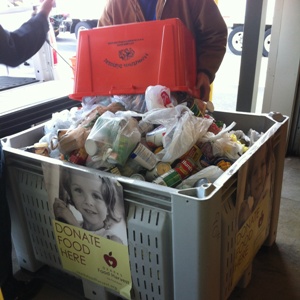 "The Home Builders Association is proud to partner with Hometown Disposal on this important effort," said HBA President Matt Bailey. "What a natural fit: to use the HBA Home Show – one of the biggest annual events in the region – to provide real help for our neighbors in need."